Minewind Building Event has come to an end.

Top 5 finalists will be rewarded over the next few days.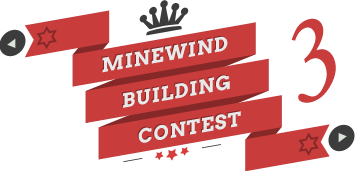 We had over 100 submissions. It was tough but we narrowed it down to the top 5 builds in our perspective. Pictures only tell half a story, wait till you experience it in-game!
RIFT by MonsieurEko (809 dragon eggs)
SEWERS by Chazlazer (323 dragon eggs)
CITY by WellFedHobo (161 dragon eggs)
I've always wanted to have a free for all in spawn but that's not really possible. So rather than build clones of areas of spawn like I've done in the past, I instead created a new area that looks like it could be part of spawn. It has a familiar look and feel yet requires a bit of exploration.
Instead of being symmetrical along center lines, the arena instead has diagonal symmetry. Each side still contains equivalent features. The starting points are meant to be in the corner side streets though the raised storefronts in the middle could be used as well.
The arena contains a large open area in the middle for 1v1 duels. There some are good lines of sight on the ground, yet at some angles those lines of sight are blocked by things like street lights and trees. It is multi-leveled around the perimeter in some areas which allows for sniper scenarios in 2v2 or 3v3 matches. There is a middle ground with good lines of sight and some cover. The middle ground is not impervious, though. There are two ways to get up to the highest ground and those have good lines of sight to the middle grounds so camping is a bad idea. There are a couple of corners to hide in but those will only bring death as there is only one way in or out.
BONES by rinsletcat (161 dragon eggs)
This was built mostly by myself (rinsletcat) , and my in-game husband/partner Ronz_Weber.
GAME by scion160 (161 dragon eggs)
Too much awesomeness!
All and all we had many marvelous submissions that almost made it to our top list. That being said, instead of only featuring 2 arenas, we'll be adding at least 5 arenas to the city. In time we will try to find use for all of the builds mentioned here. May it be minigames or whatever else!
Also check out these awesome builds:
HALL (A_Fat_Pokemon)
CONFLICT (roboticromo)
OASIS (eightbeck)
GLASS (arcticwolf)
OVERPASS (sleeper812)
FOUR (tasander)
AQUA (cutie)
DRAKE (Zittle_Dalekborn)
RUIN (Lig)
GUARD (posedion)
MORIA (amnda)
Big thanks to everyone participating in this event!